Did you know that yesterday was Sweetest Day?
Do you even know what Sweetest Day is?!?
I know that not everyone in the country celebrates this day. It's kinda like Valentine's Day. But with less hoopla.
I have two VERY SWEET people that I share life with each and every day!
Sweetpea and her Daddy!
How did WE celebrate?
Well, J and I got to go out for a rare dinner alone. Ahhhhh!
Then we went to the mall and did a little shoe shopping! Can the night get any better?!?
And then.... well, then we decided to add a member to our family!
Meet Spooky!
I'm learning it's really hard to get a good picture of a cat that is ALL BLACK! But he's cute! Trust me!
Spooky is Sweetpea's kitten! He is a 12 week old kitten who is an absolute doll! He purrs so loudly when you enter the room that you think a motor is running somewhere. He's is very playful and loves to chase the feather on a stick that we got him!
We adopted him from the Humane Society. We had been looking for the right one and I think we found him! I've always wanted a black cat... and he is just beautiful! He's laying his head on my arm while I type!
We are taking some time to get used to one another. We have yet to introduce him to our other cat, Oliver. In time.... Right now they are living in separate quarters and share visitation to the rest of the house. Sweetpea is a little jumpy around Spook. Oliver tends to nip and bite so she is not used to a kitten who does not do those things.
I've had Oliver since he was 6 weeks old. It was just me and him for awhile. Then we added a family and moved 3 times. He took it all in stride... until Avery was born. He loves her - that's not the problem. He just turned into an attack cat. When people come over to the house, he hisses. He does NOT go hide. He makes his presence known and you better not mess with his girl. He HATES small children (other than his). If someone rings the doorbell, he will jump up and try to look out the window - while hissing and meowing. Very protective. I'm glad we have an alarm - but he'd probably do just as well at keeping burgalers away! He loves us, though. Well - me. He follows me around and meets me at the door. He curls up in my lap as soon as I sit down. He is MY cat. No mistake about that.
Sweetpea wanted her own. So....
We're hoping that Spooky is more mellow and that they get along well!
It would also be AWESOME if Spooky could learn to alert to low blood sugar. I'm just sayin'
And if this weekend could get any better.... check out this!
This what Dexie greeted us with on Saturday morning! We have been battling strep and a cold which has made for some wonky blood sugars. Remember that Chick-fil-A night I told you about? Yeah, she was 508, kicking and screaming and begging not to go. It's about time we see some good bg's! She does seem to be feeling better, though. She was playing doctor this morning and asked if I was sick. I said yes. She wanted to know if it was my pancreas!
Don't feel bad if you missed Sweetest Day! You can celebrate by heading over to The Superhero and The Princess for this week's give away! She's got some SUPER SWEET stuff that she's giving away this week!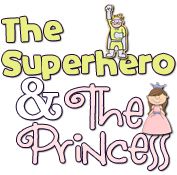 .